We had some cool mornings last week and when that happens
The ring-tailed lemur is the first primate you see when entering the
The sun was in my face and the little guy was on the other side of his house.
I wasn't sure until I downloaded the images later that day that I
had captured his sweet face.
I'm joining Misty Dawn for Camera Critters.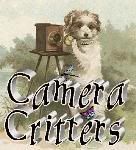 Wishing YOU well and a fun filled weekend.
I have a college baseball barbecue and an exhibition game I'm looking forward to.